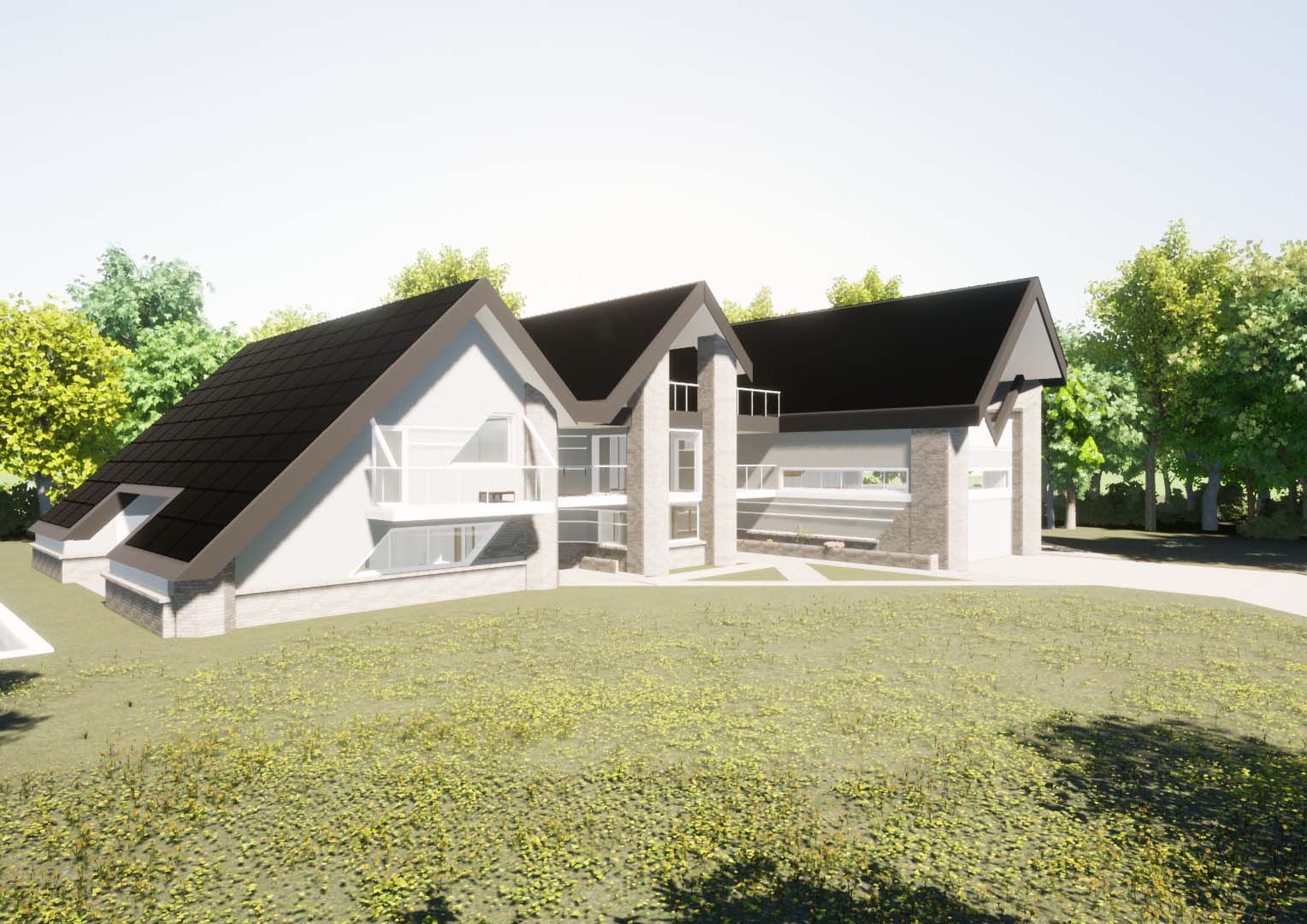 HAMPTONS
MULTI-GENERATIONAL
FAMILY
SOLAR
HOUSE

COPYRIGHT
2022 WALTER D.BROWN
2 / 3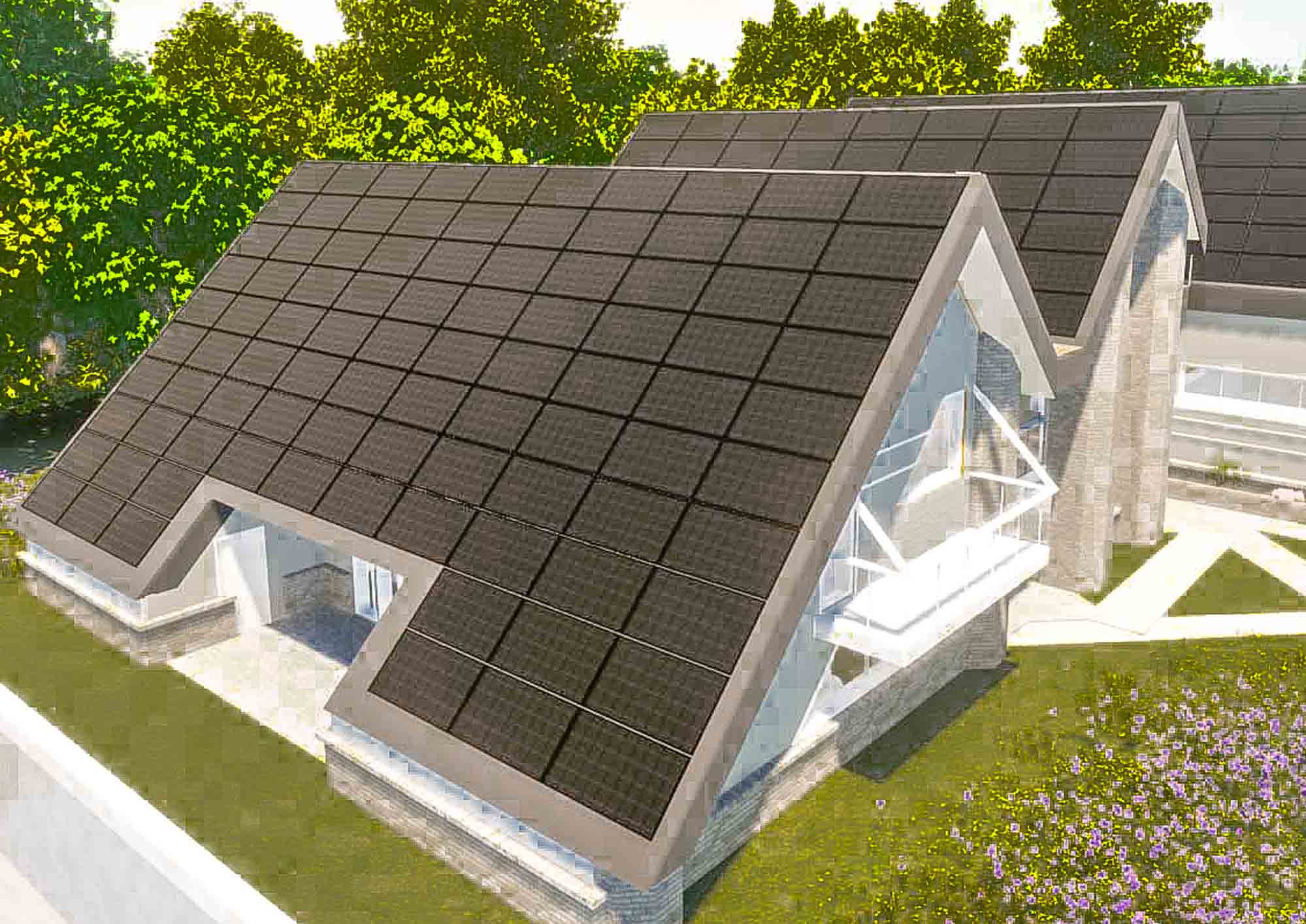 South View
2 / 3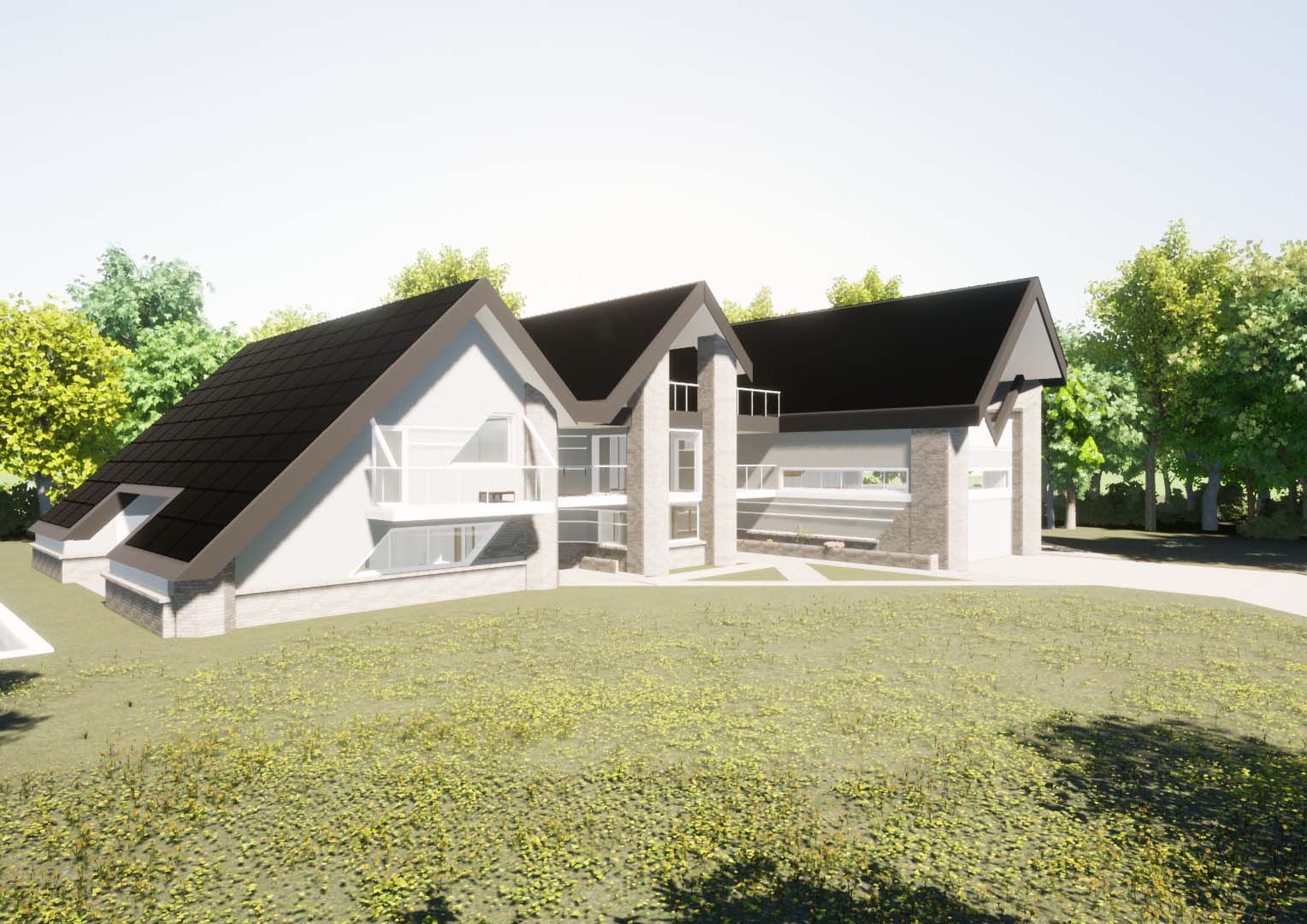 Southeast View
2 / 3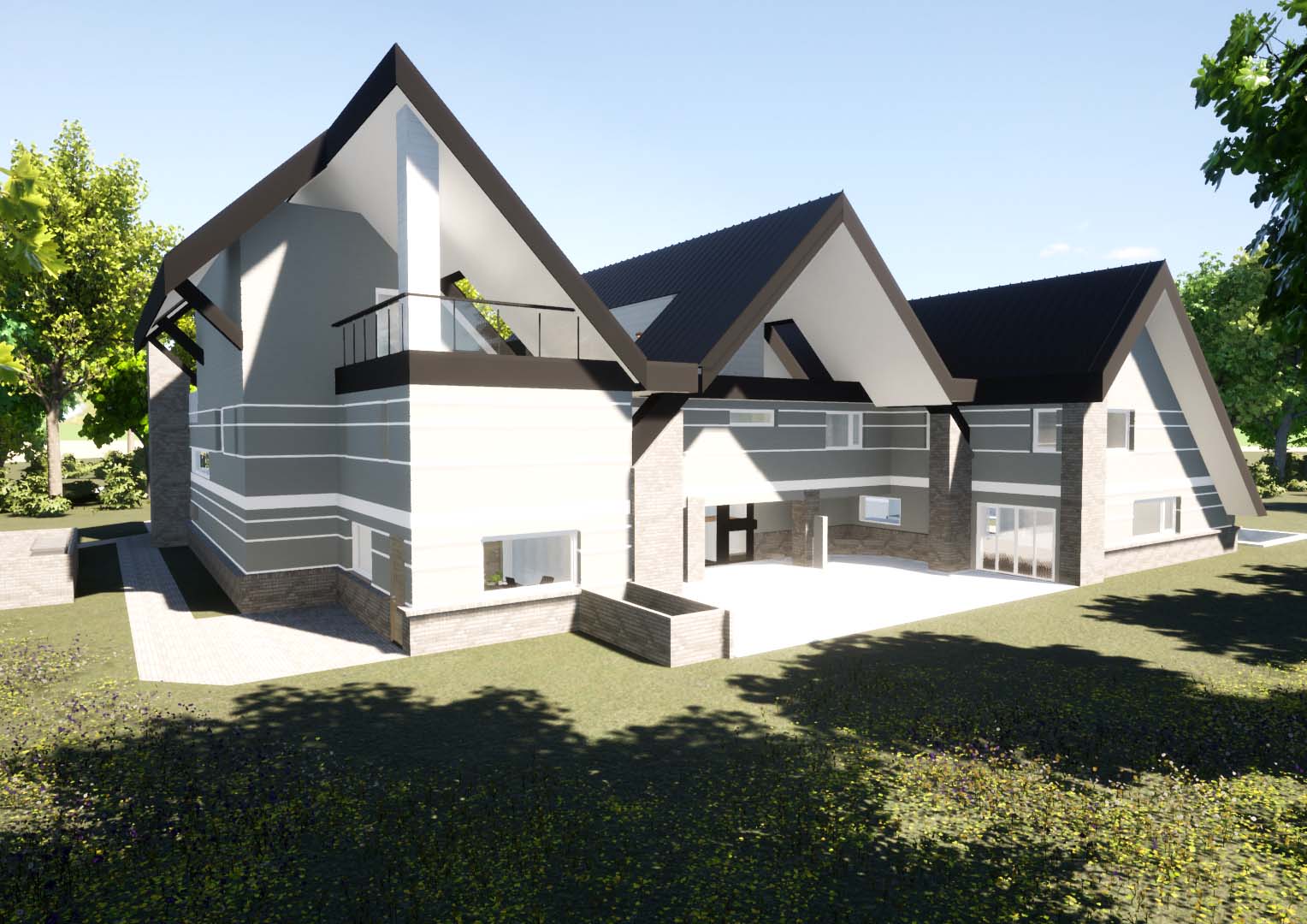 Northwest View
2 / 3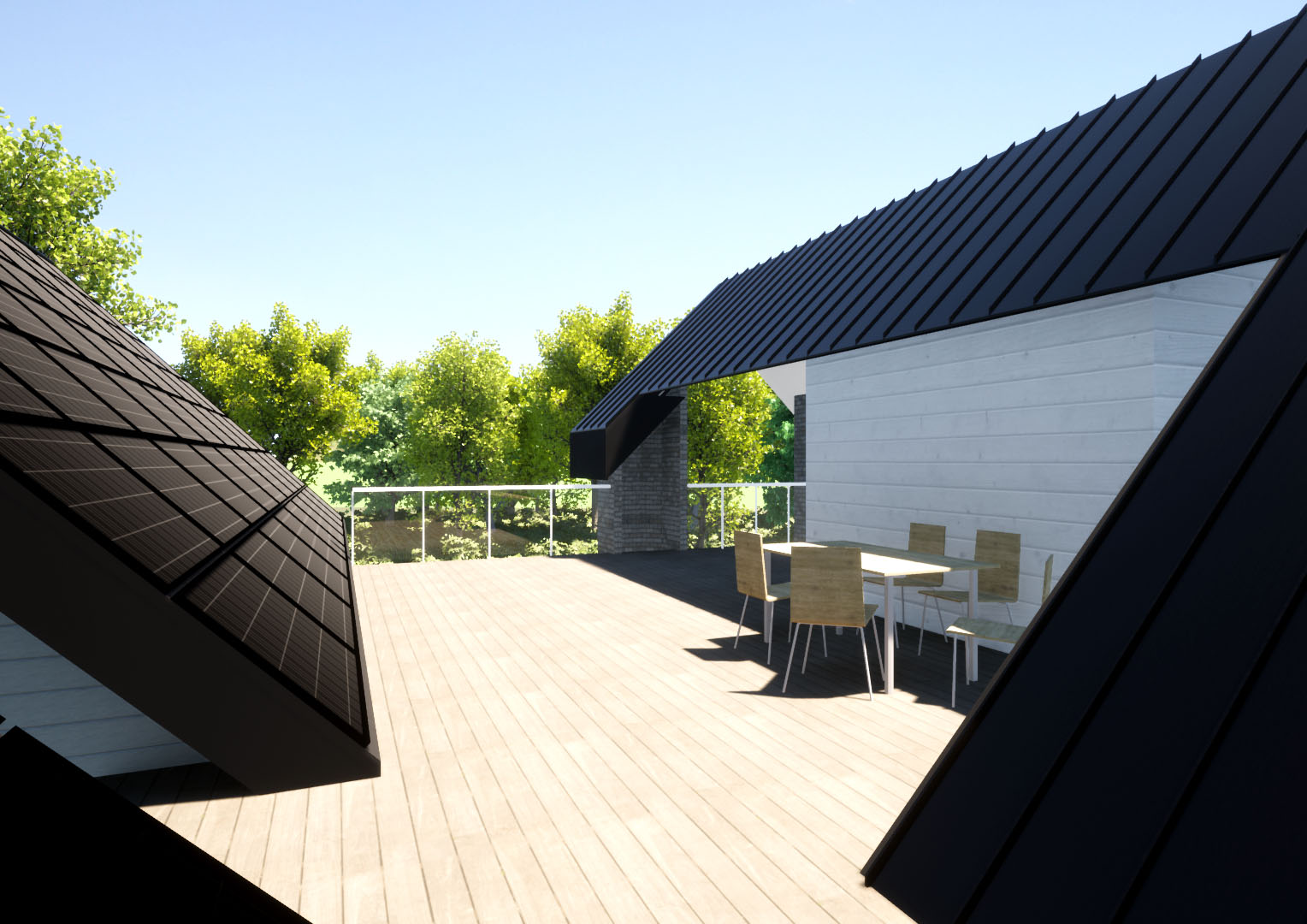 Roof Terrace View
2 / 3
West View
2 / 3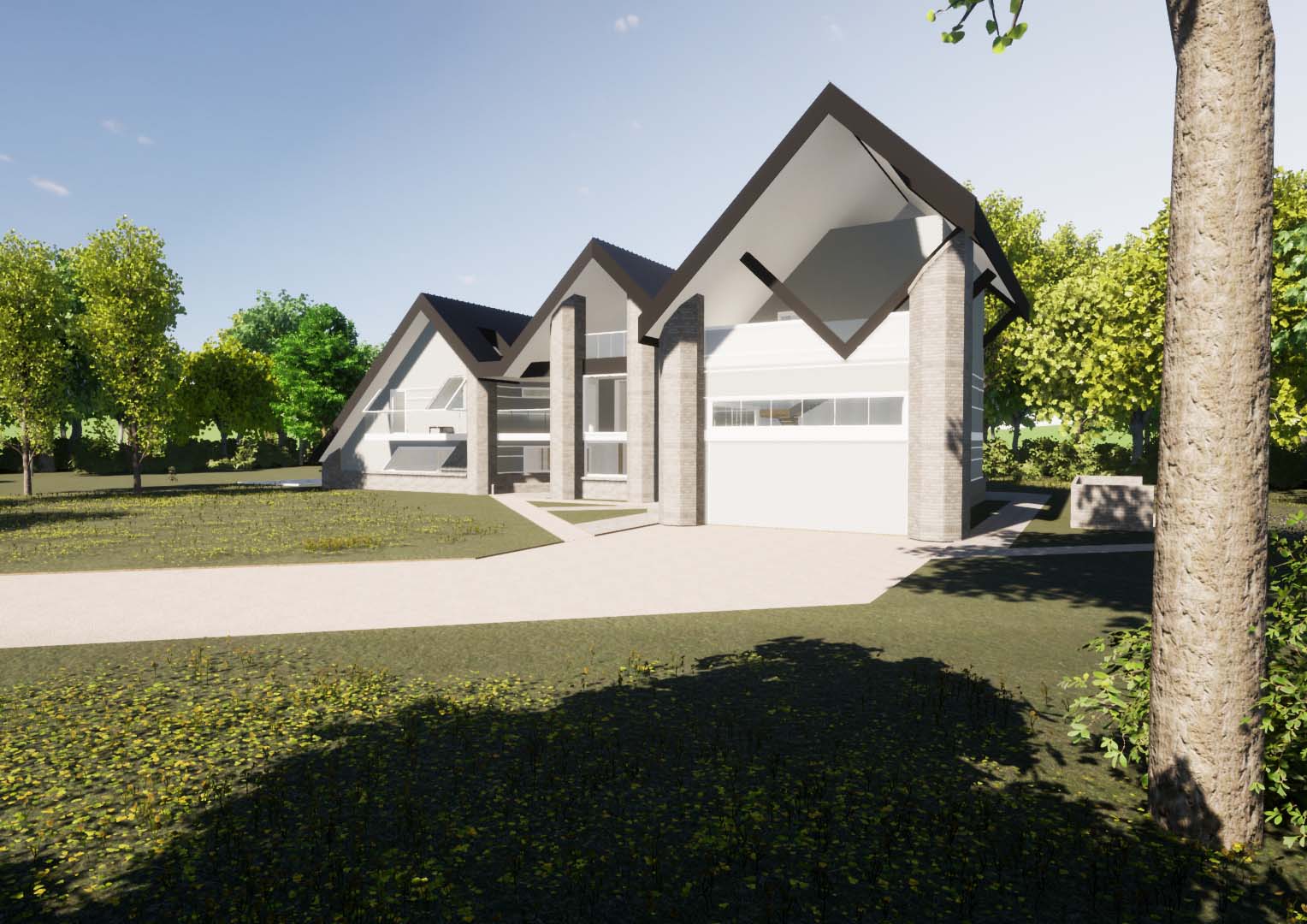 Northeast View
2 / 3
Roof Terrace and Solar Array Plan
2 / 3
Second Floor Plan
2 / 3
First Floor Plan
Specifications: HAMPTONS MULTI-GENERATIONAL FAMILY SOLAR HOUSE
A Solar Plant generating 68 Megawatt hours of electrical power per year.
5000 Square Feet of Livable Space
Parents Bedroom Suite
Grand Parents Bedroom Suite
Two Childrens Suites
Guest Room Suite
Potential for 2 Employee Bedrooms, Art Studio, Gym, Media Room
Laundry
Workshop
Garage
Office
Elevator
Living Room
Diningroom
Kitchen
Family Room
Pool
Balconies
Large Roof Terraces, with dinning, sunning, private contemplation, private conversation - all away from ticks!
Grand Covered Outdoor Entertainment Area For Large Private Gatherings
Hamptons Multi-Generational Family House is a residence in the Hamptons which provides space and comfort for parents, grand parents, and children all under one roof. In addition to providing for this extended family it also set out to provide all the necessary electrical, heating, air conditioning, and car charging needs of this family, with a net zero electrical usage over a yearly period. In other words, the net electrical bill will be zero for all the lighting, media usage, computers, appliances, heating, cooling, and car charging. It is connected to the electrical grid because there are periods during the year when there is not enough power generated by the panels for the needs of the house (winter), and there are periods during the year when there is way more than needed electrical energy generated which is then sold back to the electric company. Thus the yearly electrical costs net out to zero.
The Hamptons Multi-Generational Family Solar House is the direction we will have to go in order to create living environments that will minimize waste and produce as much energy they consume. Materials were selected which would reduce the environmental impact of the building. This house minimizes the amount of energy it uses through careful design. Additionally, it will generate all the electrical power it will use over the year, for heating, cooling, car charging, hot water, appliances, cooking, lighting, and electronic devices. The net power usage will be ZERO! Not only will this house be capable of providing for its own energy needs but it will also be able to return electricity to the grid. In order to do this, rigorous attention was placed on treating the elements of the house as a system and considering the interplay between them. For example, careful thought was given to the design and construction of the building envelope, deliberately considering means of controlling water, air, moisture and heat flow. The house will have a large amount of insulation, be wrapped in an air tight envelope to minimize heat-loss due to infiltration, ventilation is carefully controlled, have a controlled amount of glass areas oriented to views, and a controlled amount of heat gain through the windows during the summer months. We have studied the total yearly available solar irradiance in the Hamptons area, from the data collected at the Brookhaven National Laboratory, Northeast Solar Energy Research Center, and coupled this data with different solar panel manufacturers, to produce a design that can make this house produce as much energy as it consumes. Our goal is to explore the kinds of architectural forms that blend both the technical and the aesthetic. that will be both beautiful, and provide the areas and orientation necessary to collect the needed energy to make a Net-Zero house that will minimize the impact on the environment.
Website Under Construction